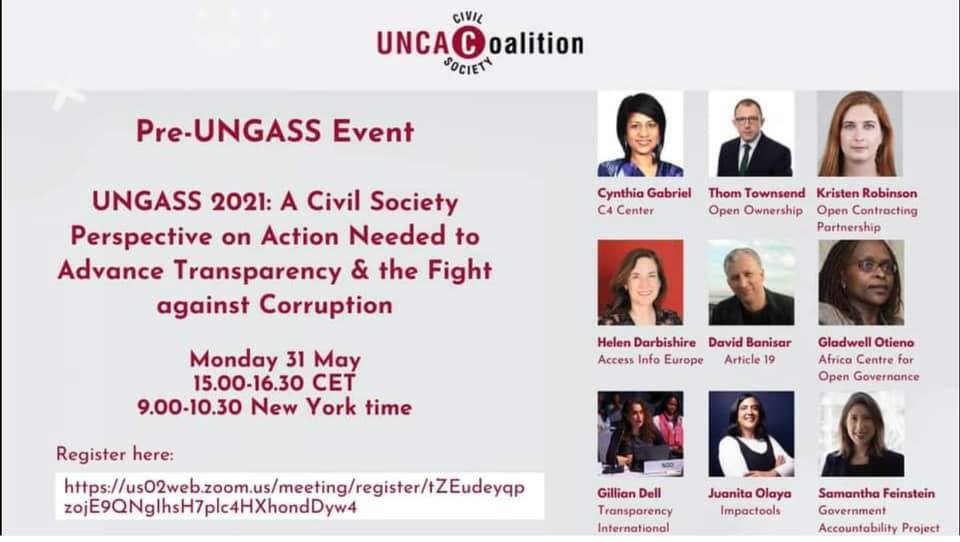 Bhutan Transparency Initiative (BTI) is happy to become a member of the United Nations Convention Against Corruption (UNCAC) Coalition. We thank the UNCAC, the only legally binding universal anti-corruption instrument, for the warm welcome, and look forward to unprecedented collaboration in combating corruption the world over.
As a part of the UNCAC Ciliation prorgammes, BTI attended the virtual pre-UNGASS 2021 side event on 'A Civil Society Perspective on Action Needed to Advance Transparency and the Fight against Corruption' hosted by UNCAC from Vienna, Austria via Zoom last evening (7:00 – 8:30 pm BST) as a member of UNCAC.
Nine civil society experts from different organizations/countries delivered "lightening talks" on the following highly pertinent issues:
Access to Information: Helen Darbishire, Access Info Europe;
Public Procurement Transparency: Kristen Robinson, Open Contracting Partnership;
Beneficial Ownership Transparency: Thom Townsend, Open Ownership;
Civic Space and Protection of Journalists and Activists: David Banisar, Article 19;
Whistleblowing: Samantha Feinstein, Government Accountability Project (GAP);
Tackling Impunity: Gladwell Otieno, Africa Centre for Open Governance (AfriCOG);
Grand Corruption: Cynthia Gabriel, the Centre to Combat Corruption and Cronyism (C4);
Victims of Corruption: Juanita Olaya, Impactools & Chair of UNCAC Coalition's Working Group on Victims of Corruption; and,
Asset Recovery: Gillian Dell, Transparency International.
Over 136 members from different countries participated in the meeting.